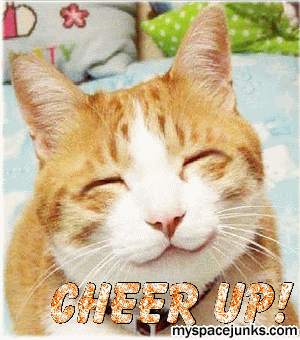 Yes, I should!

Yesterday wasn't that bad after all.
I got my buddies SMS me even tho they don't noe im quite moody that moment. *Wink2..

I miss them :(


Beth will celebrate her Son & Daughter's birthday at this Borneo Paradise.. Ive never been there but they said, it has an amazing view ~ I love beach and sunset :P Still no confirmation whether i can make it there or not Huhu.. ( will try.. )

Will having a dinner at Beverly Hotel this coming 24th ~ Andy handed us the responsibility to decide the performance - What should we perform??
Me and Sharon thinking to have a simple chior ( everyone can agree! ) with these suggestion songs:
Stand By me ( We've won this once~ weeee..)

Graduation Friends Forever ( So sad eh.. )

Goodbye Spice Girls ( Huhu... Dunwan tears.. huhu )

Goodbye SC7 ( The lyrics so sweet n sad.. )

Cant take that away from me Mariah Carey ( Awesome! )

UiTM theme ( Whoaaaaaa!! Still have other choice, no worries :P )

Linkin Park Shadow of the day ( haha wish i knew the reason why???!!)
But we prefer the 2 + 3 +4 +5 Istead :)

And we'll also thinking to do this "appreciation dedication" business.. It's like we providing service to sent a flower/chocolate/candies with a card in campus...It's for our trip to Uitm Shah Alam in december. We really ran out of money now.. Huhu...
And also this Services we provide to do the cleaning! ( Haha.. Im good at it- sometimes :P ) It's from house-to-house. We'll even wash the cars if needed. Hehe But it's NO free.. it's again for the same trip :P We're working real hard to see the Bursa Saham there, dont we??
We should be given Reward for this :P at least, a FREE T-shirt ( haha..) Dont you think?? :P
Let's see the progress, i'll post the pictures if once it's done. Hehe..
Keeping busy..busy..busy..
Little Jane :)